CITIA
CMS Platform Redesign
Thrown into the deep end and learning to swim.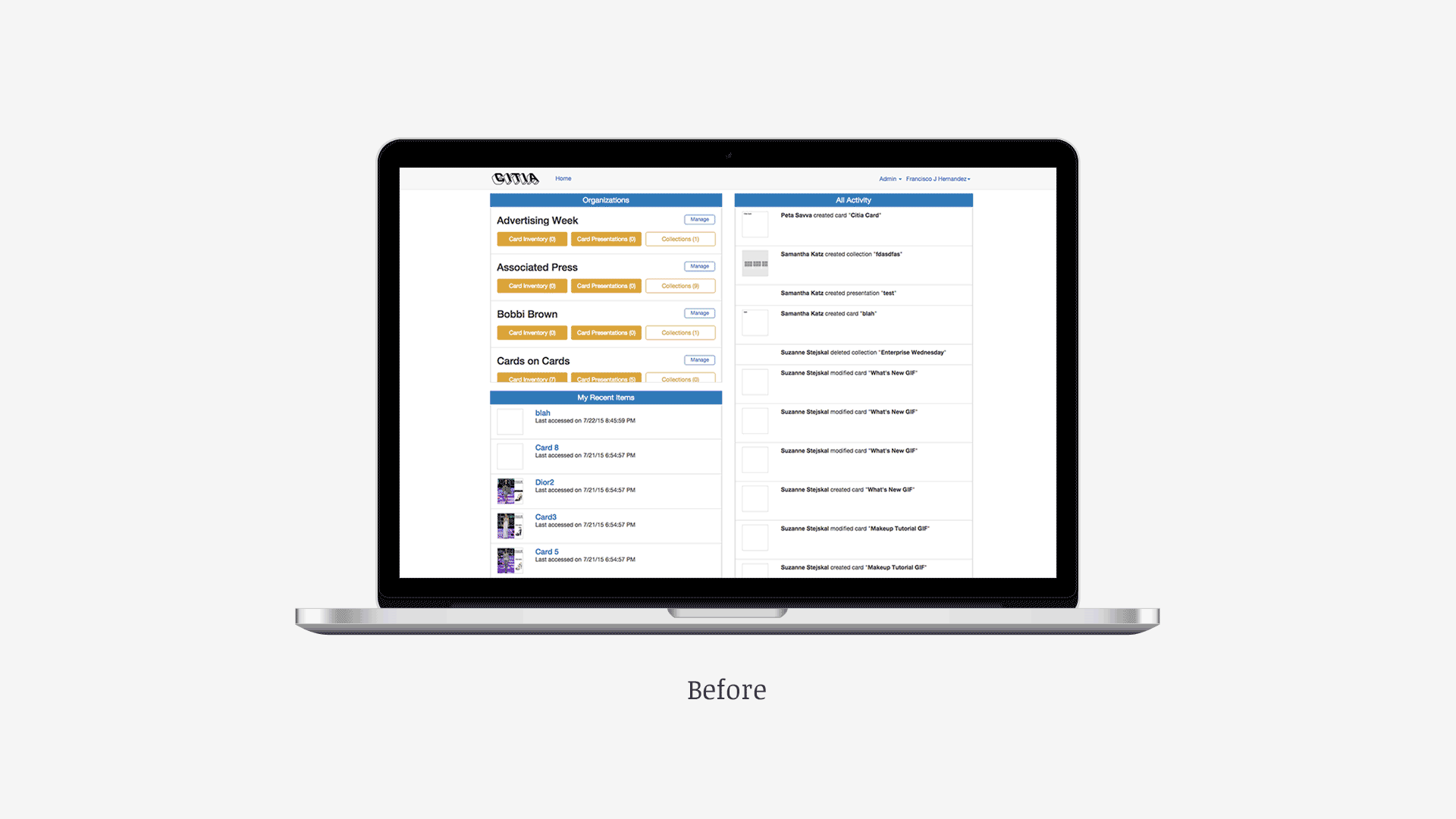 My Role
Lead Experience Designer
Task
Interview users, Research, Present, Sitemap, Wireframe, UI, UX, Visual Design
Responsibilities
Research multiple competitor platforms
Analyze research and showcased feature patterns
Interview users
Filter and analyse feedback
Present findings to VP of Product, CFO, and CEO
Create wireframes based on user workflows
Develop an design system for a unified experience
Design final screens for the platform interface
Create spec sheets for developers
Create tickets in JIRA for development
Lead Junior Front End-Devs during development
Overview
Citia is a card-based content management system for content strategist to quickly create pieced of content (cards), bundle that content into a microsite, publish and distribute into their social streams. As the Lead Experience Designer at Citia, I believe that the true value of our system is that it is fast and easy to build cards (piece of content), quickly collect them into a cardsite (microsite), publish instantly, and immediately share them on their company social media streams.
Problem
When I arrived at Citia I received feedback from users that they felt the navigation experience was disjointed. We had three types of users each with different tasks. A Content/Social Media Managers who are admistrators of the account. The manager's main task is to manage people in our software and review published microsite metrics. Marketers and Content Strategist working closely with designers to build their campaigns into microsites. The marketer's task is to publish and launch sites into their company's social media stream. And finally In-house designers, developers, or interns building cards. Their tasks is to create and edit content and build sites.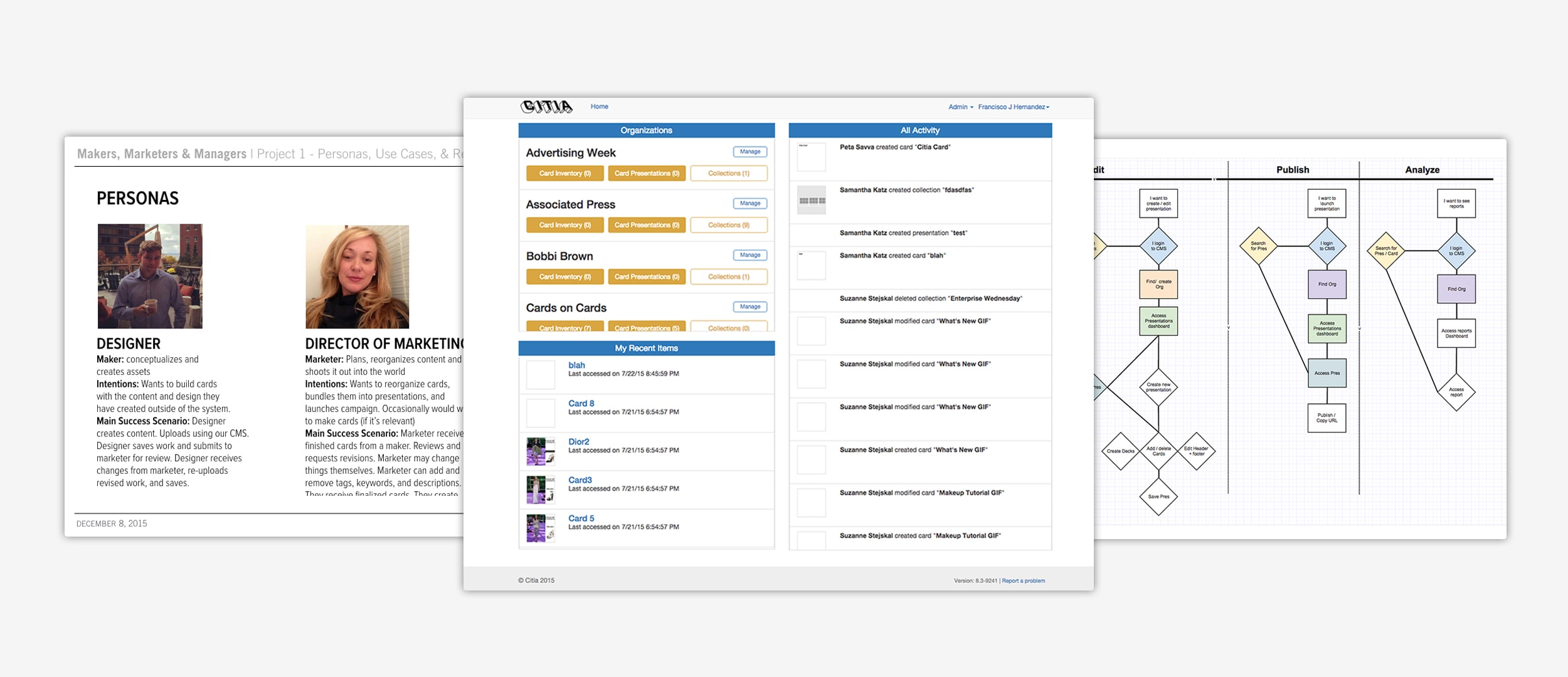 Process
I saw this as an opportunity not only to create an effective navigation experience for our users but also implement style guide to set rules and design standards for current and future improvements. I first set out to find our users pain points and since they were working on the platforms first iteration they had plenty of feedback. The VP of Product and I discovered that our essential building pages were buried in our system, our editor tools were disconnected and did not match our user behaviors, and we were missing highly needed features such as global search. I presented our findings and together with the VP of Product and Director of Engineering developed a strategy, scope of work, and roadmap for delivery. The final proposed deliverals were a dashboard page, card inventory page, microsite list page, reports page, user profile page, and organization page.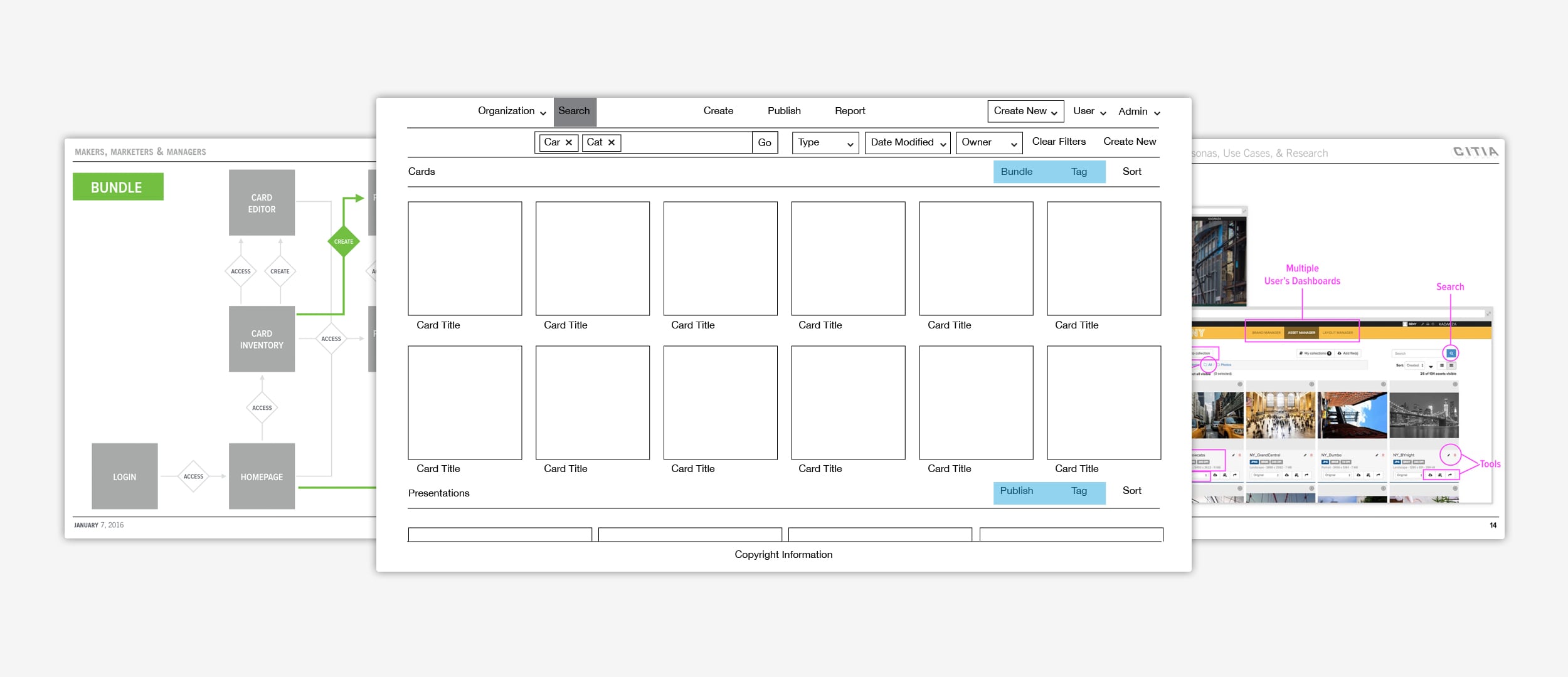 Outcome
I created a more flexible work flow for our users as well as a visually delightful experience that fit along the suit of products they already use. Our Client Success team received an influx of client feedback, the likes of GE, Viacom, and MasterCard, stating how much easier and intuitive our platform had become. Personally, I was able to find my balance as a Lead Experience Designer by setting forth my innate skills as a self-started and a team leader and guided the development team through the expected delivery of our new experience. I was thrown into the deep end with this project but the adrenaline of being lead and being responsible for such a big undertaking helped me swim to the top.